INTERNATIONAL CO-PRODUCTION
2017 to 2020 INTERNATIONAL CO-PRODUCTION MEETS REPORT: Click here
Script Submission form for Co-Production: Click here
Delegates Registration: Click here
The 11th Co-Production Meets & Market will take place during the 15th JIFF & JFM on 8 January 2023 (7 PM Onwards), at Arch College of Design and Business, Govind Marg, Malviya Nagar, Jaipur.
BUS & TAXIES WILL BE AVAILABLE OUT SIDE THE INOX THEATRE (Parking entry side, 6:30 PM)
registration@jaipurfilmmarket.org
CC at
jaipurfilmmarket@gmail.com
I have never seen in India like this CO-PRODUCTION meet, well planned and well managed. – Hariharn, South Indian Filmmaker (In 2017 Co-Production Meet)
AN EXCLUSIVE PROGRAM, NETWORKING OPPORTUNITIES FOR PRODUCERS, MEETS AND GREETS.
250+ delegates participated in Co-Production Meets (2016 to 2020) from 45+ countries.
Co-Production meet will give you opportunities to meet the global partners that will move your projects forward: Co-Producers, Sales Agents, Distributors, Financers, Directors, Film Festival Organizers, Film Commissions and Film Fraternity Members.
Co-production treaties are gaining great momentum in the industry. India, with other countries signed an audio-visual co-production treaty that aims to bring the film industries of the two countries together like - Canada, Brazil, France, Germany, Italy, New Zealand, Poland, Spain, UK, China and Republic of Korea etc.
Seeking to enhance co-operation between two countries in the audio-visual area; Desirous of expanding and facilitating the co-production of audio-visual works, which may be conducive to the development of the film and audio-visual industries of both countries and the exchange between them. For more information about India and other countries co-production treaties please visit http://www.pmindia.gov.in & http://mib.nic.in/ and cross check with Government rules and policies.
The Co-Production Meet provides a platform for carefully curated projects with the Global film makers/producers to find financial, artistic and creative support.
Script Submission form for Co-Production: Click here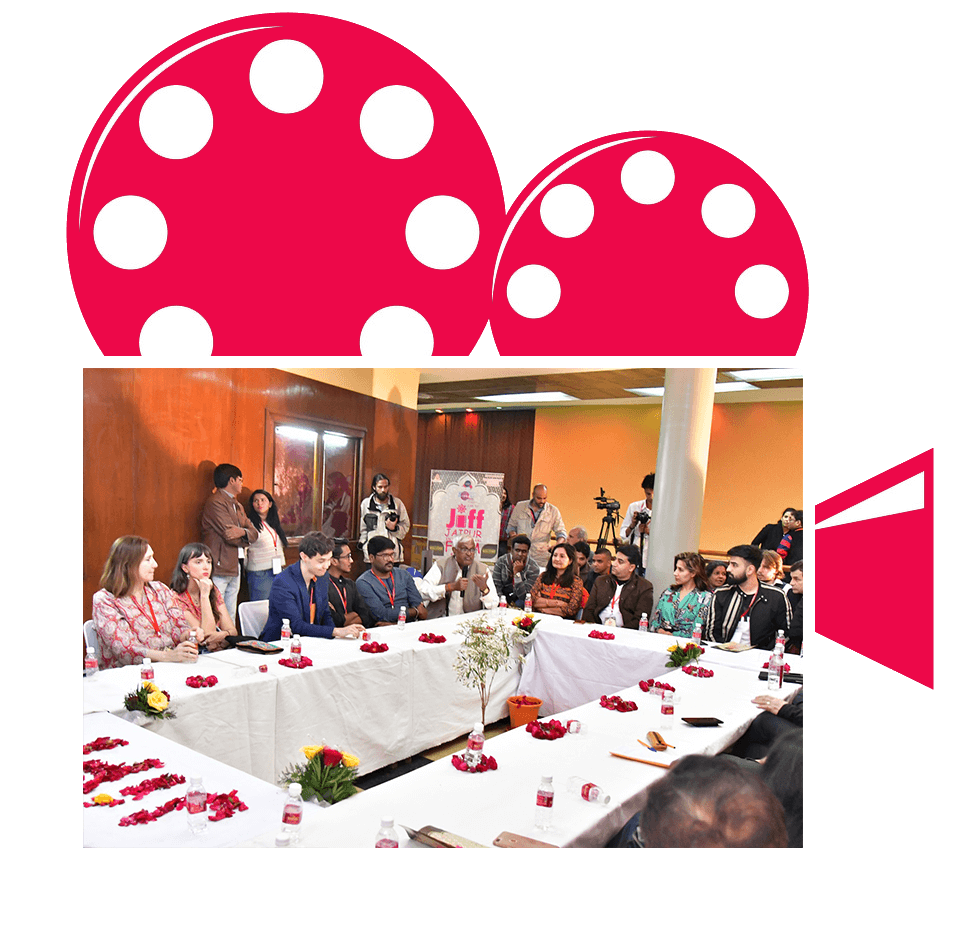 How To Submit a Script for Co-Production?
March 2022 till 21 December 2022, experienced & new producers/directors/writers from all over the world can register or submit their script/s.
If you are looking for projects to Co-Produce and participate in this, please write us at: jaipurfilmmarket@gmail.com
Project requirements
Feature length fiction, Short length fiction project/s with international market potential (for theatrical release) and also submit Short documentary, Short animation, Mobile film and Web series.
Suitable for international co-production and open for co-producers.


Full script available
Budget between: no limit/boundary, but show the budget of your film (in US $) A minimum of 30% of the financing, or at least the local production support, must already be secured.
Project submission (by email)
Treatment / expose in English (2 to 5 pages).
5 page script excerpt for Feature-length fiction and 1-2 page script excerpt for Short length fiction, Short documentary, Short animation, Mobile film and Web series.
Financing Plan.
Director's previous work sample on DVD (Courier by any diplomatic channel at market office, Jaipur or email us your previous work sample online link at: jaipurfilmmarket@gmail.com
DEADLINES & SEE FEE IN SUBMISSION FORM ABOVE
Early Bird deadline-August 15, 2022
Regular deadline-September 15, 2022
Late deadline-October 15, 2022
Extended deadline-November 15, 2022
Final deadline-December 21, 2022
POSTAL ADDRESS
Director
Jaipur Film Market - JFM
F1, T-138
Narayan Vihar, Near SBI & Bhakhar Paradise
Gopalpura Bypass Road - Jaipur – 302 020
Rajasthan, INDIA
+91-800 3937 961
AFTER THE PROJECT SELECTION
Co-Production Market 2023 - The selected top 3 scripts/projects are announced in December and presented in the Project Catalogue, which is e-mailed to all registered participants one week prior to the event. The JFM Co-Production Market team organizes individual one-on-one meetings with interested potential co-producers and financers for the producers of the selected projects.
The JFM Co-Production Market is meant to be a "natural" meeting place for producers and financers who are already attending the JFM and JIFF. Therefore, the JFM Co-Production Market provides festival free accreditation only for participants who submitted scripts to co-produce.
Pay submission fee through PayPal: jiffjaipur@rediffmail.com
PayPal direct online link: Click here
Pay submission fee through PayTm: 8003937961
Pay submission fee through Googlepay: 9828934481
A/C Name: Jaipur International Film Festival Trust, Saving A/C No. – 4312866453, IFSC Code: KKBK0003544, Bank Name: Kotak Mahindra Bank, Jaipur
Welcome to the New Emerging Film Capital of India & the World.